2 Player Touch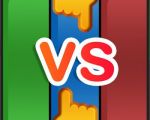 2 Player Touch includes 12 mini game stages. Players try to react before each other. Good game for 2 players on android phone and tablet. This free game created for Android devices under 2 players category.
2 Player Touch consists of 12 different enjoyable stages. What players have to do is to react first. In order to be the first reactor, players have to be quick and decide fast. In the game, players get three or more buttons to press on. Some of the mini stages are: air hockey, catching fruit, matching card colors, multiplication table etc.
2 Player Touch is an android game designed for two players. Gamers play it on one device, at the same time. For people who want to play a game or spend some enjoyable time with their brothers, sisters, friends or parents, 2 Player Touch is a good choice. It is also a fun activity for couples.

You can follow us on
Android Games For+