Eternity Warriors 2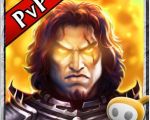 Eternity Warrior is an online multiplayer game featuring PVP an CO-OP multiplayer options. This free game created for Android devices under 2 players category.
In the Battle of Northern Udar, the demon threat returns. In Eternity Warriors 2, the players are asked to clean the Demon Towers and defeat the deadly demon army. With PVP or CO-OP multiplayer options, players can battle agains or alongside with online players or they can play with a friend, if they choose to. The game enables you to enjoy with real time combats against demon enemies. Use your special skills to slice the enemy. Collect armour, weapons and other loot. Advance your tools to become the ultimate Eternity Warrior.
With its above the average graphics and online multiplayer modes, Eternity Warriors 2 offers action and excitement. For dungeon crawling action game lovers, it is the perfect choice for playing with your friend or another online fellow warrior.

You can follow us on
Android Games For+