Best Android Games for Toddlers
The best android games for your babies, toddlers and how to choose the best and most suitable games for your little kids.
In this new age of technology, almost everyone uses a smart phone or tablet or both of them together. We use our age of technology devices for everything. And it is inevitable for our little kids to meet technology at a very young age. But the important thing is to try to prepare a safe experience for our toddlers and little kids and to keep everything under control.
If you want to introduce your toddlers and babies to smart phones and tablets, android games are the best way to do it. If chosen deliberately and carefully, android games can be highly educational and good for your little kids.

What to look for ?
Education:
While choosing an android game for your toddlers, there are some features you should consider. First of all, the game must be for young ages not for children older than 7-8 years old or for teens. Since toddlers and babies are in the process of developing motor skills and reflexes, the game must be suitable for them. Choose games which can help your little kids to improve their memory skills, eye-hand coordination, motor skills and recognizing abilities.
Another important thing to look for in a game is, whether the game is educational. In those young ages, babies and toddlers improve their abilities and start to learn new things. So the android games you choose for your little kids must make a contribution to your children's education and knowledge. It is very important to teach your babies and toddlers new things in an enjoyable way. There are plenty of android games that can help you to teach your little kids about letters, numbers, names, animals, colors, sizes, sounds, shapes and about many more important subjects.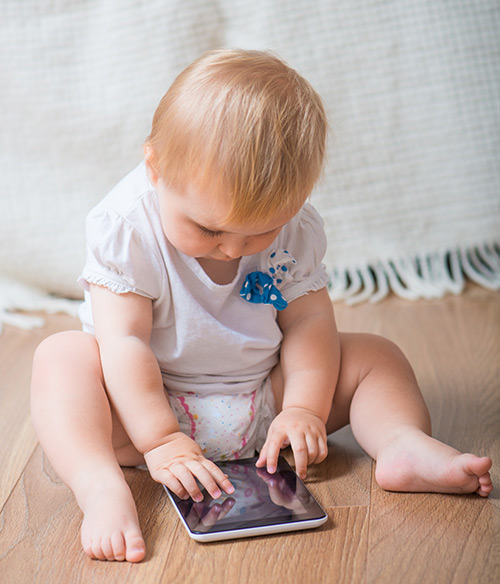 Safety:
Also, one of the most significant feature of a suitable android game is no ads. The game you chose for your toddlers and babies must not include any adverts. The toddler games, android games generally, are based on touching the screen. Your toddlers and babies will continuously touch the screen and since they are not capable of separating ads from the game, they will tap on the adverts too so apps with adverts will be a big problem for you. Try to find add free android games or at least android games with remove adds option for your toddlers and babies to safely use your devices. To prevent little kids from entering other pages or making accidental calls etc., parents should also have toddler lock screen. Some android games come with this option or you can download an app especially designed for this purpose.
If you are new to this game choosing process, here are some tips to help you. The best android games which help your toddler and babies to improve their skills and abilities would include popping, tapping on specific things, drawing, recognizing the different one. Puzzle, matching and maze games can help your little kids with their memory development. Android games which include animals in their natural habitats, counting, coloring, fruits or objects with their names and sound effects to teach your toddlers and babies the correct pronunciations of words can be highly educational.
Entertainment:
It is also very important to keep your toddler entertained. It is not just about educating, the android games you choose must enjoy and occupy your little kids without boring them. The best android games to entertain your babies and toddler are the colorful ones with lovable characters and cute songs and sound effects. With a suitable game, you can stop your children's crying, solve feeding problems if you have any and give your little kids an entertaining adventure.
Here are some of our choices for the best android game for toddlers list:
1) Toddler Preschool Activities: A collection of 60 different type of games to help educating and entertaining toddlers.
2) Puzzingo:  A fun puzzle gam to teach your toddlers and babies about shapes and help them to improve their memory and recognizing abilities.
3)  Toddlers Trifling: A collection of different colorful games designed especially fortoddler and babies to motor skills and reflexes.
4) Baby Games: Baby Games consists of five different games for toddlers, babies and even for infants to play. Each game has educational and entertaining sides to appeal your little kids.
5)  Dinosaur Games: A delightful game for toddlers. Let your toddlers and babies learn numbers, letters, counting with the help of 12 mini games, while they are having fun.
6) Baby Phone Games: This game features songs, lullabies and a lot of different sound effects to keep your baby busy and happy. It is a game for six month old infants to one or two year old babies or for toddlers who love singing. 
7) Kids Match Game: A fun matching game for your toddlers and babies. Little kids will improve their memory skills while enjoying with colorful objects and animals.
8) Dino Maze: Dino Maze includes helping little cute dinosaurs to find their way back home through maze. With 30 different mazes, various difficulty levels, colorful screen and cute characters, your toddlers and babies will love this game.
9)  Bubble Popping For Babies: In this game, little marine animals are in bubbles and your little kids must rescue them by simply tapping on bubbles to pop them. Bubble popping will help your toddlers  to improve eye-hand coordination.
10)  Toddler Coloring Book: The easiest and most enjoyable coloring book for your toddlers. Toddler Coloring Book helps developing your children's ability to use their hands productively. This game also improves your children's vocabulary while keeping them entertained.