Kids Paint Free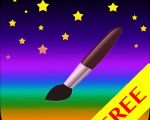 Kids Paint Free is an educational painting game developed for toddlers babies and kids. With this app, your kids can draw pictures and have fun at the same time. This free game created for Android devices under Toddlers baby category.
Art has an important effect on kids education. It contributes kids development in positive way. Kids who make art can express themself easier than the others. In this case, painting has huge importance on toddlers life. With Kids Paint Free, your toddlers can easily start drawing pictures.
This amazing game has wonderful colors and toddlers can pick any of them. Kids Paint Free has unique features and it will be essential for every kid. If you want to clear the screen you just have to shake the tablet or phone and that's it! Besides, with this excellent app you can take photos or import photos from your gallery. If you wish to keep your toddlers drawings, you have a chance to save the pictures.
Kids Paint Free will improve your kids creativity. Toddlers and kids will start to express their emotions and thoughts perfectly while they are painting. If you want to educate your sons and daughters in funny way you should download this free game and see their talents immediately!

You can follow us on
Android Games For+