Preschool Learning Train Games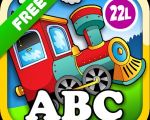 Preschool Learning Games Train is educational android game developed for toddlers and preschoolers. This amazing android app aims to contribute kids abilities in funny ways. Kids will love this cute train! This free game created for Android devices under Toddlers baby category.
Kids love animals. Preschool Learning Android Games Train provides to toddlers adorable animals and different scenes. Kids and toddlers will recognize animals in enjoyable way. Your preschoolers and toddlers will be addicted to this splendid experience.
Preschool Learning Games Train includes kid friendly menu that never confuses young minds. They can control this app without your help. Besides, they just have to follow the orders,choose the correct animals and drag them into the train. That's it!
Features:
- Different android game scenes (farm, jungle,desert,etc)
- Colorful images and clear voice overs that help toddlers to understand animals fastly
- Toddlers can see spelling of animal names in this android  game.
- Kids can get more points and high score in this android game.
With Preschool Learning android Games Train, kids will try to get high score and be more motivated. Besides they will have a chance to enhance their cognitive and motor skills. This wonderful game doesn't provide just the animal teaching. Preschoolers and toddlers can also learn colors,spellings,different scenes and time concept. There are many things in one app, you will love it!

You can follow us on
Android Games For+