Storybook Rhymes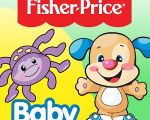 This app includes both first and second version of Storybook Rhymes. Read and sing along to your toddler's and baby's favourite nursery rhymes and have fun with interactive activities. This free game created for Android devices under Toddlers baby category.
 Storybook Rhymes is designed especially for little kids like preschoolers, toddlers and babies. Even infants can hev fun listening to cute and relaxing rhymes. Storybook Rhymes include colorful and lovable characters, different classic stories, enjoyable and comforting music, sung songs and interactive animations and games.
Each volumes features two different nursery rhyme stories:
Volume 1: "One, two, buckle my shoe" and "Itsy bitsy spider"
Volume 2: "Row, row, row your boat" and "Animal fair"
There are two modes of playing:
Sing to Me: For little babies and infants. The narrator sings the stories and any touch is enough to advance the content.
Read&Learn: For older babies, toddlers and preschoolers. The narrator reads the stories and by touching the interactive touch points, your kids reveal supplementary animatd content.
 Volume1:
https://play.google.com/store/apps/details?id=air.ie.capture.fisherprice
 Volume2:
https://play.google.com/store/apps/details?id=air.com.fisherprice.Storybook2

You can follow us on
Android Games For+