Toddler Games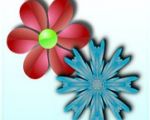 Toddler Games is a collection of 6 educational and entertaining games. Designed especially for infants, babies and toddlers, Toddler Games is very easy to play. This free game created for Android devices under Toddlers baby category.
Toddler Games is a fun android game collection designed for your little kids. The collection includes interactive and colorful games, educational activities and so much joy for your babies and toddlers. The games are not complicated and are easy to play so this collection is also suitable for infants.
Toddler Games features:
Find the Difference: This game contains different sets. Each set has 4 images of animals, 3 of them are the same but one of them is different. Your babies and toddlers aim to find the different one. When they touch the correct answer, the game will present them another set.
Trace the Shapes: All your little children have to do is to trace the trail of flowers with their fingers. They will create different shapes and this game will help your toddlers and babies to learn various shapes. It also help them improve their motor skills and eye-hand coordination.
Trace Cursive Letters and Numbers: Your kids follow a displayed path to write cursive letters and numbers. Especially for preschoolers who start to learn writing, this game is very helpful.
Memory Cards: A simple and fun memory game which contains flowers covering pairs of animals.
Clean the Ice: In this game your babies and toddlers clean the ice and snow with their fingers to reveal the covered image.
Changing Colors: A pretty flower changes its colors every time your toddlers touch it. The game contains 12 different colors and helps your little kids to learn about colors. 

You can follow us on
Android Games For+