Red Ball Game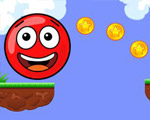 Red Ball, with its improved content, is now available on all game stores. Name of this android game is New red ball. You can play new levels and special degins in this new red ball. This free game created for Android devices under Kids category.
One of the most favourite games on old Nokia phones, Red Ball, is now ready for gamers with its enriched features. The game reached a high downloading number in a short time on Google Play Store. With enjoyable levels and a good story behind, Red Ball is suitable for kids.
At the beginning we see the Red Ball living happily in its habitat. Then one day, a bad man starts cutting trees in Red Ball`s habitat and builds concrete structures everywhere. To save trees, Red Ball sets off on a journey. During its journey, Red Ball encounters many dangers and puzzles. Players need to help Red Ball to catch the bad guy.
In some parts of the game, players ride cars, in other parts they experience great action on a moving train. To complete the levels, players have to reach white and red coloured flags. In total there are 20 different levels in the game.
Red Ball offers action, challenge and entertainment at the same time and is a good choice for especially platform game lovers.
Red Ball Game Screenshots

You can follow us on