2 Player Reactor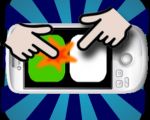 A collection of 18 mini games enabling two players to play at the same time on the same device. A perfect choice for those who don't like waiting! This free game created for Android devices under 2 players category.
2 Player Reactor requires speed, the ability of deciding fast and good reflexes. Choose one of the 18 mini games with your opponent and if you think your answer is right, try hitting your button faster than your rival to get a point. If players hit their button at the wrong time, they lose a point but there are always a following mini game for them to make up for their mistake.
2 Player Reactor also has old school clean graphics to prevent its players to be distracted. It also means that the game can be played on even the oldest android devices.
The game also includes different choices for players with different wantings. For example, if players want to jump right into the action, they can choose Quick Game or if they want to  play a long game they can change the settings anytime they want. It is also possible for gamers to play in different languages because 2 Player Reactor comes in 25 different languages.

You can follow us on
Android Games For+