Read Me Stories : Learn to Read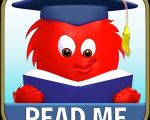 Read Me Stories: Learn to Read is free educational android game created for toddlers and preschoolers. This amazing game aims to improve kids reading skills. This activity will educate toddlers in short time. This free game created for Android devices under Toddlers baby category.
Early education has big importance on kids development. Read Me Stories app prepares toddlers their educational challenges. Toddlers will learn letters and spellings without boredom.
Read Me Stories provides kid friendly interface that helps toddlers to focus only readings. Your little ones can handle the menu without your help. And then begin to recognize letters without wasting time. Besides it provides different levels. Easy one is perfect for your toddlers capacity.
With this android app:
-       Kids can entertain amazing images and voice overs
-       Parents  can read kids bed time stories and spend quality time together
-       Children can learn correct pronunciations of words
-       They can improve their vocabulary skills with more than 1000 words
-       Different languages helps toddlers to learn different words
Kids will become more creative. Also they will be able to express themselves better with new words. If you wish you can join them and help their development while you are having fun!

You can follow us on