Kids & Toddler Puzzle: Animals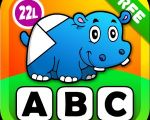 Kids & Toddler Puzzle is intructional puzzle game specially created for toddlers and preschoolers. The aim of this android game is educate and entertain kids with amazing images and musics. This free game created for Android devices under Toddlers baby category.
Puzzle games have big importance on kids early education and they love puzzle games. This amazing android app provides wonderful images and sounds that helps kids to recognize animals and shapes.
Kids & Toddler Puzzle includes many different themes and 150 puzzles. Besides, this puzzle activity provides kid friendly interface that never confuses little minds. Toddlers will be able to control it easily!
Features:
-       Highly recommended instructional game
-       Colorful images
-       Clear voice and sounds
-       Different themes and puzzles
-       Kids can learn shapes,vehicles,animals and toys
-       Different levels
With this android game, kids will learn many different names. Besides, they will enhance their motor and memory skills. Kids & Toddler Puzzle will help your toddlers and preschoolers have great times without boredom. They will love those cute drawings you can trust it ! You can read our article about how to choose android tablet for your kid, choose the best and cheap android tablet in this article.

You can follow us on