2 Cars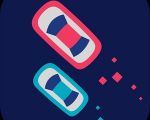 Control 2 differently colored cars at the same time and collect circles while avoiding squares. This free game created for Android devices under Older adults category.
It seems like 2 Cars is an easy game, right ? But it is not as easy as it seems. While you are playing with 2 Cars same time you are going to use 2 sides of your brain. This is not a thing that you are doing in a usual day but playing 2 Cars.
You are going to control red and blue cars at the same time. There will be 4 lanes on the screen of your Android device, 2 lanes for red car and the other 2 for the blue car. The red car will be on the left side and the blue car will be on the right side. 
You just need to touch the screen to change the lane of the cars. The objective of the game is collect circles and avoid squares. Do not miss any circles and do not hit any squares, then you will survive. 2 Cars is a game for teenagers and also for adults.

You can follow us on