Car Wash Teeth Game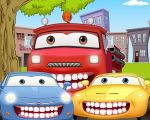 Car Wash Teeth Dentist android Game is funny andorid game for toddlers. The aim of this game is helping cute cars to fix their smile. Kids will have amazing time with those cute car images,tools and sounds! This free game created for Android devices under Toddlers baby category.
Kids,especially little boys like cars. Car Wash Teeth Dentist Game provides different colorful vehicles and adorable drawings in one app. This android app will meet your kids expectations!
In this game, toddlers will repair and wash those cars. In addition, they will try to fix their dental problems. Besides, with Car Wash Teeth Dentist Game, kids will have funny stickers so they can attach them to the cars. It is so easy android game that kids should do all these processes with their little fingers.
Features:
-       Different vehicles such as police car, sports car, fire truck, etc
-       Different animations that fascinate toddlers
-       Cars make sounds and flash their lights
-       After cleaning process kids will be able to see cars shining
-       Kids can save and share the pictures of cars
-       Different stickers in android game
In this android game, kids will touch the tools and try to understand how to use them. Car Wash Teeth Dentist Android Game is both educating and motivating game. Toddlers will be able to use their fingers better. This game will make a big contribution to your toddlers motor skills development. Besides they will have a chance to spend time with their favorite cars!

You can follow us on