Cute Ant Advanture Coloring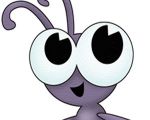 Cute Ant Advanture Coloring is educational android game for preschoolers and toddlers. This awesome app aims to keep your kids busy and improve their abilities. Toddlers will love those cute ants. This free game created for Android devices under Toddlers baby category.
Coloring games on android tablet are the best for toddlers. They like spending time amazing colors and adorable animals. This coloring book game provides two different coloring pages. Kids free to choose the right level for their capacity.
Features:
-       Simple interface that makes kids control the app easily.
-       Toddlers can undo or redo the moves
-       They can save their pictures in android tablet
-       They can share their works on facebook
-       Different coloring pages in android game
With this wonderful android game, toddlers will be able to use their abilities. They become more creative and tactful. Besides, they will be able to improve their motor and cognitive skills. In addition, they can save their colorings and keep them long time. You will love this android app when you try.

You can follow us on