Circle the Dot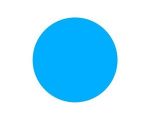 Circle the Dot is a simple game with very simple rules. The goal is surrounding the blue circle with orange dots. But it's not as easy as it seems. This free game created for Android devices under Older adults category.
Circle the Dot is a simple but challenging android game, like Ketchapp's other games. In the game, players must try to block the blue dot with the help of the orange dots. In order to create orange dots, players just have to tap on the grey dots on the screen. Surround the blue dot with orange ones and win. But be careful, it is not that easy to trap the blue dot, because it is very clever. This game is very good for older people especially good game for your  grandma and grandpa. Look for other grandma games and grandpa games from links above.
Being very easy to play, Circle the Dot is a very entertaining game. But it also includes many challenges. Players need to brainstorm in order to make clever moves and surround the blue dot. They will also need a lot of luck. Experience the game's simplicity, comforting colors, easy playing and start enjoying now. Circle the Dot is a very relaxing and thrilling game especially for adults and older adults who are looking for a quick free time activity.

You can follow us on