Action For 2-4 Players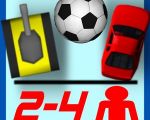 A collection cosists of three different games for multiplayers. Enjoyable action games for you and your friends. This free game created for Android devices under 2 players category.
Action for 2-4 players is a game designed for multiple players to play on one device. The game includes single player mode, two players mode or you can choose playing with your three other friends. It is possible to fight the world alone or together with your friends in the new cooperative online mode. 
Action for 2-4 Players collection features;
Tablet Soccer: A real world football adaption for tablets and smartphones. This game is playable with 2 or 4 people.
Tank Fight: In this game, players try to shoot and explode each other's tanks. The one who survives wins the round. Scoring 7 points will enable you to win the game. Tank Fight is playable with three or four people. And it also includes 5 different maps and a team mode in which yellow tanks fight against red tanks.
Car Race: There are 3 different tracks and the speed and grip of the cars are changeable. So, playing a F1 style racing game or drift/rally style racing game is completely up to you. 
Local multiplayer option enables you to play with up to four people on your tablet or phone while realtime online multiplayer mode offers playing with up to 8 people around the world. It is a great game for playing with your brother or friends at any place.

You can follow us on
Android Games For+