Checkers 2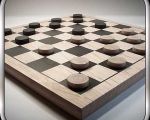 Checkers 2 is a challenging 2 players board game that involves strategy. Try defeating your opponent by taking all of their pieces. This free game created for Android devices under 2 players category.
In Checkers 2, one player has dark pieces and the other has light ones. They take turns in moving their pieces diagonally, from one square to another. If a player jumps over any of the other player's piece, he takes that piece from the board. In the game, the goal of the players is to take all the pieces of their opponents.
The game is for two players to challenge each other using their intelligence and strategic skills. There are 6x6, 8x8 or 10x10 sized boards for two players to play on.
Checkers 2 also features; ability to choose from a wide variety of boards, undo functions and save options.
If you are looking for a challenging but entertaining activity to do with your friends, Checkers 2 is a good option. With beautiful, advanced HD graphics, it is a perfect android game for two players.

You can follow us on
Android Games For+