Chess Time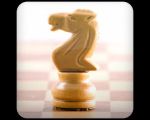 A multiplayer chess game for you to play anytime you want and with anyone you want. Now crossing platforms with iOS support. Play multiplayer android chess game. This free game created for Android devices under 2 players category.
Chess Time is designed for two fellow chess lovers to play with each other at anytime and anywhere they want. The joy of original chess board game is now in your  phones as an two players android game. If you and your friend love chess and strategic games, this is the game for you.
Chess Time™ enables its users to create a free account and invite one of their friends to a game whenever they want. If players don't have any available friends to play with, they can always choose a random opponent.
The game features game level chat for you to talk with your opponent and history of recent games played. Chess Time™ also includes crossing platforms with iOs. So now, gamers can play with their friends who are using iOS.
Chess Time™ is the perfect 2 players game for people who love challenge, excitement and strategy. Players who want to show their intelligence can play Chess Time™ anytime and at anywhere with their friends or with a random chess lover!

You can follow us on
Android Games For+