Tanks For 2 Players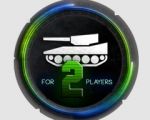 A great 2D game for 2 players to beat each other with their tanks. You will like this game if you love war games and soldier games on android tablets. This free game created for Android devices under 2 players category.
Tanks for 2 Players requires players to choose a tank for themselves and then select a map to play on. After adjusting settings according to their preferances, they are ready to start. There are 10 maps and more than 20 tanks from two different categories in the game. The game also includes an optional fire button with which players can shoot.
Tanks For 2 Players is playable on one device by two players. Fire button can be moved to three different positions for enabling a better playing for 2 players. There are two joysticks through which the players can move around battlefield.
If you want a fun and exciting activity to share with your friend, brother, sister or whomever you want, Tanks for 2 Players offers action and entertainment for both of you.

You can follow us on
Android Games For+