UNI for 2 Player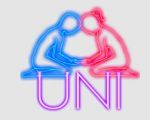 UNI (you and I), the best collection of different types of games for 2 players. This free game created for Android devices under 2 players category.
UNI is a multiplayer game, designed for two players. All the games are played on one device. UNI includes 15 different types of games such as; action games, timing games, shooting games or racing games.
Featuring many types of games, UNI is suitable for all players, whether they are interested in challenge or strategy or something else. Everyone can find what they are looking for with UNI. The game also is a great way of spending enjoyable time with siblings, friends, girlfriends/boyfriends and with parents.

You can follow us on
Android Games For+