Abyss: the Wraiths of Eden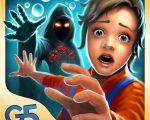 Famous underwater explorer Robert Marceau has disappeared and now his fiancée must find him by investigating the forgotten underwater city Eden. This free game created for Android devices under Kids category.
Strap on your oxygen mask and dive in to the depths of ocean. In order to find the famous explorer, discover and investigate the sunken city Eden which is now controlled by demons and supernatural forces.
While exploring, players will encounter many spine-chilling secrets, cleverly hidden objects and creatively designed mini games. Abyss: the Wraiths of Eden features;
40 ravishing underwater locations
Plenty of eerie sea monsters
16 different hidden object scenes to explore
22 fascinating, cleverly designed mini games
A unique Domino game
Three difficulty modes from casual to expert
In-depth strategy guide
Set off on an enchanting journey, descend to the gloomy depths of the ocean and experience this thrilling adventure with your smart phone. Abyss: the Wraiths of Eden presents kids the scariest and the most entertaining android game with high quality graphics.

You can follow us on
Android Games For+