Adventure Town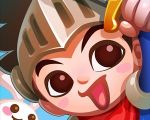 Adventure Town is a strategy game full of adventures in which players build their own town and defend it against the monsters. This free game created for Android devices under Kids category.
In Adventure Town, the town which was in a stunning shape once, was destroyed by monsters and needs your help. Rebuild the town and turn it back to its glorious days. The game requires players to build offices, shops, houses, and all kinds of buildings to create their unique town. But it's not as easy as it seems. Apart from other town building games, in Adventure Town, while creating your town, you have to fight against the evil monsters too.
To defend your town against monsters, add charming features to your town which can appeal heroes. Specialize your heroes and soldiers with weapons like shields or swords and with strong armors. Battle with Dark Lord and Evil Boss, explore the different regions in the game. Players can see how successful they are by looking at the leadership board. With high quality 3D graphics and enjoyable sound effects, Adventure Town is for strategy loving kids and teens.

You can follow us on
Android Games For+