Age of War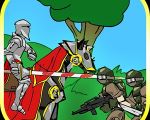 Age of War is a well-known strategy game, now available for your android phones and tablets. Travel through different ages and try to advance faster than your enemies. This free game created for Android devices under Kids category.
Age of War is a very popular android game, now remastered for mobile experience. In the game, players start from the Cavemen Age and progress through other ages such as Stone Age, the Middle Ages and present day. Take control of different units and turrets to evolve and defeat your enemy.
In Age of War, android players must protect their base and defend it against attacks and countless enemies. Place your turrets strategically, use different defense mechanisms and hire soldiers to fight for you. There is a wide variety of weapons for players to use in their battle against the enemy. The war lasts for 5 ages and each age has its own turrets and combat units. You can see your base at the left side of the screen and enemy attacks come from the right.
Age of War also includes 15 different types of turrets, 16 different types of battle units, 5 ages, colorful graphics and addictive gameplay.Age of War is a unique android game for strategy lover kids and teens. With colorful graphics, possibility to play as a caveman or a horsed-knight and entertaining features, the game is a good choice for players. Kids are going to love this unique adventure.

You can follow us on
Android Games For+