Beach Buggy Blitz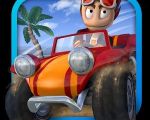 In Beach Buggy Blitz, players drive their hot-rod beach buggy to explore the uncharted depths of a mystical island. Join this enjoyable adventure filled with action, monsters and volcanoes. This free game created for Android devices under Kids category.
Beach Buggy Blitz is an action game in which players explore the unknown parts of a mysterious tropical island. In the game, players swerve and smash through a stunningly designed and highly detailed destructible environment. There are beautiful beaches, dark caves, ruined temples, giant crabs, volcanoes, lava monsters, statues and even yetis!
Beach Buggy Blitz includes upgrades and power-ups to boost your performance. You can unlock new cars, advance your vehicles and paint them to make them unique. It is also possible to unlock new characters and power-ups to make you a more powerful destroyer.
Beach Buggy Blitz features:
-Infinite driving ability in which players can drive for miles
-A vast variety of unlockable content
-Easy controlling
-Amazingly detailed and animated physics and figures
More than ten million people from all around the world play the game and it has 4.2 stars on Google Play Store. Beach Buggy Blitz is an addictive and entertaining android game for kids and teens who are looking for unlimited action.

You can follow us on
Android Games For+