Classic Labyrinth 3D Maze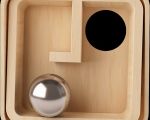 Everyone's favorite childhood game, the wooden labyrinth with steel ball, is now on smart phones. With accurate physics simulations, Classic Labyrinth 3D Maze is for action and maze lovers. This free game created for Android devices under Kids category.
Classic Labyrinth 3D Maze presents you the entertainment of your original childhood game. In the game players control the ball by tilting the wooden maze. You need to direct and balance the ball through the maze and try to get the best time. But watch out for holes, if you let your steel ball go into a hole, you will lose.
The game includes 12 handmade levels, all increasing in difficulty as players progress in the game. Class Labyrinth 3D Maze also includes 3 different difficulty levels for you to choose.
The maze game also features:
Accurate ball physics simulation
Smooth movements
Realistic sounds
Personal high score table
Classic Labyrinth 3D Maze requires fast reflexes and good hand-eye coordination. Kids and teens who love maze games will love this game. Classic Labyrinth 3D Maze offers kids and teens action while reminding them of their childhood.

You can follow us on
Android Games For+