Curio Quest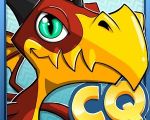 Curio Quest takes place in another world, where people raise cute and unique monsters named Curios, and battle them against each other. Dive into the colorful world of Curios, train your monsters and join tournaments. This free game created for Android devices under Kids category.
Curio Quest is a battling game designed for kids and teens. In the game, players find themselves in a far-off world filled with Curios. What players have to do is to collect and raise their Curio monsters, battle them against other ones and be the victorious. Players begin their unusual journey by collecting the monsters. Then they have to train and raise their monsters. There are more than 80 Curios available in the game, also it is possible to create 240 new Curios evolutions. Upgrade and advance your monsters with a lot of special skills and boosts.
There are many epic battles and tournaments in which you can challenge players from all around the world. Curio Quest also enables its players to form a club with their friends and in-game chat with friends or battle other clubs. The game also features free gifts and daily rewards and ability to dominate the worldwide leaderboards, only if you are good enough!
Curio Quest is a fun, challenging and an action filled android game for kids and teenagers. Win battles, be the best, dominate the world with your Curios! 

You can follow us on
Android Games For+