Deer Hunter 2014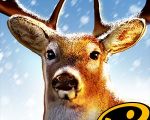 One of the best hunting games on computers, Deer Hunter, is now designed for your android phones and tablets. Hunt various animals with 3D graphics. This free game created for Android devices under Kids category.
Deer Hunter is the best hunting based android game for smart phones and tablets. In the game, players hunt different animals like deer, bears, turkeys, cheetahs, sheep and many more. The animals are all in their natural habitats.
In the game, there are changing seasons, tough weather conditions and attacking predators like wolves to challenge you. Also it is not that easy to shoot moving animals from afar. Begin with deer hunting and improve your skills as you progress in the game.
Deer Hunter includes many different weapons and players can customize their weapons. Upgrade magazines, scopes, stocks, barrels and more.
With more than 100 animals, different environments to explore and various weapons to customize, Deer Hunter presents the joy of hunting at its peaks. Right now more than 50 million people are playing this game and it has 4.4 stars on Google Play Store. Deer Hunter 2014 is a perfect android game for kids and teens who want to experience hunting with really good 3D graphics. 

You can follow us on
Android Games For+