Dungeon Hunter 4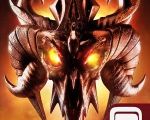 Dungeon Hunter 4, created by Gameloft, is a stunning role playing game with an epic storyline and high quality graphics. Advance your battle skills and defeat your enemies. This free game created for Android devices under Kids category.
In Dungeon Hunter 4, players wake up from a nightmare, only to find their kingdom, Valenthia, decimated. The Demons, who thought to have become extinct a long time ago, have returned. Luckily, you are unharmed from the battle and mysteriously gifted with new power and skills. Remember, you could be your people's only hope.
Dungeon Hunter 4 enables its players to choose from 4 different character classes with unique combat styles. You can upgrade your battle skills and slay waves of enemies or massive bosses. In Dungeon Hunter 4 it is also possible to customize, craft and charm your armor and gear.
The game is available for multiplayer action. Show your stunning battle skills in the PVP modes. Enter COOP arenas and go for challenging fights.
Dungeon Hunter 4 is full of action, fascinating graphics and beautiful storylines. The game has been downloaded more than 5 million times and has 4.4 stars on Google Play Store. Kids and teens who love role playing games, action and challenge, must try this unique android game.

You can follow us on
Android Games For+