Empire: Four Kingdoms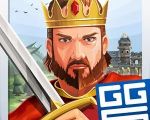 In Empire: Four Kingdoms, build your unique castle, rule your kingdom and explore different countries. The award winning strategy game is now waiting for you. This free game created for Android devices under Kids category.
Empire: Four Kingdoms is a middle class strategy game in google play android market. In the game players build a kingdom and a mighty castle for themselves. Players need to do everything for their kingdom to last forever. Explore new continents, capture strategically important places and outposts, build a powerful economy. It is also important to have a might army. There is a wide variety of weapons for you to use in this android game.
Strengthen your armies and send them into battle. Defeat your enemies and tear down their castles in order to become the most powerful force in the kingdoms. In Empire: Four Kingdoms it is also possible to unite with other players. Join forces with mighty alliances and attack thousands of rival players.
Empire: Four Kingdoms also features: four massive kingdoms, many challenges, more than 15 million players, many exciting events and the cross play android-game community. Empire: Four Kingdoms is an award winning strategy game for kids, teens and adults. Get ready to enjoy experiencing hours of joy that lies ahead of you. Prepare your tablet and mobile phone for real war.

You can follow us on
Android Games For+