FIFA 15 Ultimate Team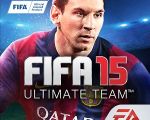 Create a team from your dream players and face with your powerful opponents. With high graphic designs and vivid game playing, FIFA 15 offers the joy of real football. This free game created for Android devices under Kids category.
FIFA 15 Ultimate Team featuring more than 500 licensed teams, 10.000 players and more than 30 real leagues, is the most realistic football game.
Build the ultimate team! With new fast simulations, players can test their managerial skills. Choose the players, start the match, make clever player replacement choices, arrange team effort during the match. Match results completely depend on players' abilities and how they control the game.
Get in the field! If you are a new player, use 'shoot', 'pass' and 'sprint' buttons and try basic controls. As you get used to playing, try classic controls. You can either use your finger for playing or your joystick.
In FIFA 15, it is possible to play in  The Premier League, La Liga, MLS and much more. For kids and teens who want to play with their favorite players, build their favorite team and experience a highly realistic football game, FIFA 15 is the best choice. But gamers who want to download this amazing android game have to have 1,35 GB empty space in their devices.

You can follow us on
Android Games For+