Grabatron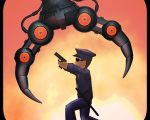 An unusual alien game for action lovers. In Grabatron, players control the aliens and take revenge from tiny human race. Throw the humans, crush them or abduct them, do whatever you want. This free game created for Android devices under Kids category.
 Grabatron gives us a different point of view about alien games. Usually, aliens are the bad guys and players try to defend human race against them. But with Grabatron, players can finally have the joy of playing in the role of aliens and defeating humans.
 In the game players take control of a UFO with a retractable claw and start destroying tiny humans. Scare the human race, terrorise them however you like. Abduct them, crush them, toss them, do what you want.
Grabatron features:
5 different ships such as Scout, Mustax, Hornet, Talonator and Xenoclaw
5 landing zones and a huge world to explore
More than 30 different missions
Ship upgrades including speed, shield, crystal attraction
Extra lives
 With realistic physics and fascinating graphics, Grabatron will be the new favorite android game for action lover kids and teens.

You can follow us on
Android Games For+