Help Me Jack: Atomic Adventure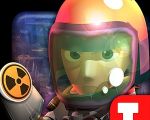 In Help Me Jack android game: Atomic Adventure players try to save the world from the invasion of space traveling mutants. Explore the lost cities of the Earth, battle against monsters, upgrade your skills and save the Earth! This free game created for Android devices under Kids category.
The nuclear fallout messed up the Earth and now the mutants have taken over the world. The only people who can save the world are Jack and his super hero squad. The world is on the edge of destruction and Jack has to hurry in order to save the world. Explore the lost cities and discover secret passageways with keys and bombs to find the captured humans in every sector. You can play this game on android and iphone mobile services.
In order to survive, players need to build a sci-fi headquarters to help them unlock new skills, advance their equipment and research new technologies. Find the reason what causes mutant enemies, why they are capturing humans and how to end it. Send your team mates to gather up scientists and doctors. Build your team, customize your skills, upgrade your armor and save the world!
Help Me Jack android game also features:
200 levels and neutralizing the mutated beasts in all world sectors
Customizing Warrior or Shooter classes
Collecting companions and training them
Many places to explore
Option of replaying missions for resources or new partners
Help Me Jack is a delightful android game especially for kids and teens. Join this challenging adventure, advance your skills, battle with mutants and save the world!

You can follow us on
Android Games For+