LEGO BIONICLE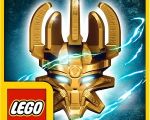 LEGO BIONICLE is an epic action game in which our six heroes, each of them is the master of a different thing, try to recover the lost masks of power to stop the forces of evil. This free game created for Android devices under Kids category.
In LEGO BIONICLE the goal is to stop the rising evil power on the island of Okoto by recovering the lost power masks. In the game, players can build and fight as all the six heroes including:
Tahu: the master of fire
Kopaka: the master of ice
Onua: the master of earth
Gali: the master of water
Pohatu: the master of stone
Lewa: the master of jungle
There are challenging quests for the long lost Masks of Power in six different elemental regions, more than 100 designable pieces on the way, 74 arenas in all the different regions of Okoto Island.With the heroes' special moves, you can rule the battlefield. Increase your fighting skills in the endless levels. Take in-game photos of your heroic times.
Designed for kids older than 8 years old, LEGO® BIONICLE® doesn't include any third party ads, links or in-app purchases. With high quality graphics and colorful characters, LEGO® BIONICLE® is one of the most favorite android games amongst kids and teenagers.

You can follow us on
Android Games For+