Magic 2015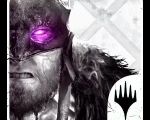 The most epic card game on android markets, Magic 2015 has finally arrived. Duel with creatures, enchantments and spells to defeat your opponents. This free game created for Android devices under Kids category.
The long waiting is finally over. Everyone's favorite card game, Magic 2015 has returned with advanced features. In the game, players take on the role of Garruk, Multiverse's best hunter, and start hunting their prey.
In Magic 2015, players find themselves at the heart of the game. As Garruk, you need to expand your deck, unlock powerful new cards and explore the plane of Alara. Sharpen your skills as you fight your way across the Multiverse. Challenge powerful opponents and face legendary Planeswalkers. Select the best cards out of hundreds and create your own unique deck. Expand your deck as you progress in the game. Magic 2015 requires strategic skills and wise moves. There is also a detailed tutorial to help beginner players.
Magic 2015 has a multiplayer option with which you can challenge your friends or duel with random opponents. Magic 2015 is an exciting android game which requires high strategic skills and is suitable for kids, teens and adults who love duel games.

You can follow us on
Android Games For+