Major Mayhem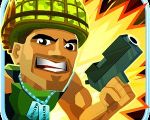 In the game, we join the newest recruit of army to help him rescue his girlfriend and the freedom of the world from the hands of evil forces. Major Mayhem is a highly addictive and exciting android game for action lovers. This free game created for Android devices under Kids category.
Major Mayhem is the newest recruit in the Adult Swim Games army and his girlfriend was abducted by forces of evil. He needs to save his girlfriend and future of the world from the hands of those evil forces. Players use guns, grenades and a wide variety of destruction tools to accomplish their goal.
The game features:
45 different levels, all full of action
4 game modes
150 mini mission targets
100 different achievements
20 unique and powerful weapons
42 various costumes and hats to create your Mayhem's style
5 power-ups
Major Mayhem, from beginning to end, is full of action and excitement. The game is one of the most addictive games on android stores and has 4.6 stars on Google Play Store. Kids and teens who want to have an amazing time will love this game.

You can follow us on
Android Games For+