Marvel Contest of Champions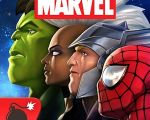 Collect the mightiest Marvel heroes and villains to defeat the supervillain Kang The Conqueror. A visually stunning game for Marvel fans, action game lovers and for everyone. This free game created for Android devices under Kids category.
Marvel Contest of Champions features Marvel's mightiest heroes and villains. In the game The Collector, an Elder of The Universe, summons you to a contest against Kang The Conqueror. The goal in the game is to prevent the destruction of the whole Marvel Universe. Assemble a team of heroes and villains as you go on quests to defeat the new and mysterious supervillain.
 Collect, manage and advance your mighty team wisely and earn bonuses based upon team bonding and relationships. Go on quests, explore the maps, face the challenges. Battle against the evil supervillain to save The Marvel Universe. Advance your characters. The more powerful the hero or the villain, the better their abilities, special moves and stats.
 The game features iconic locations from The Marvel Universe, special moves for each character, highly advanced graphics, well done colors and movements, stunning animations and HD quality. Also, the characters look like they've just popped out of comic book pages with their accurate appearances and styles.
 Marvel Contest of Champions was praised by a lot of websites and reviewers. It is the ultimate game for Marvel Universe fans, action and comic lovers. Even though you are not a Marvel fan, this game still is the best choice for you with fascinating qualities and features. Kids, teens and even adults will love this addictive Marvel android game.

You can follow us on
Android Games For+