Mikey Shorts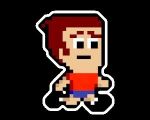 Mikey Shorts is a simple and fun platform game which includes running, jumping, sliding. Collect the coins on the way and buy new disguises as you progress in the game. This free game created for Android devices under Kids category.
Mikey Shorts is a platform game filled with action, for android phones and tablets. In the game players help Mikey to rescue people. When players finish a level fast enough, they earn up to 3 stars. The game includes:
6 unique environments
More than 170 disguises to wear
Hidden Golden Shorts in all levels
Online and offline achievements
Retry button to restart a level
Enabling players to adjust controls
With exciting game playing, colorful features and simple graphics, Mikey Shorts offers an enjoyable platform game for kids and teens.

You can follow us on
Android Games For+