Mini Warriors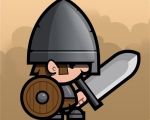 In Mini Warriors, the 2D cartoon multiplayer game, players create their legion and with thousands of troops they fight against Nigel, the God of Darkness. This free game created for Android devices under Kids category.
In Mini Warriors, Matilda needs your help. As a lord, you can create your own mighty legion and recruit great heroes who lead troops including magicians, cavaliers, archers and warriors. With your troops, do everything you can to stop Nigel, the God of Darkness and his evil plans.
In the game, there are amazing battlefields. Intense and magnificent battles involve legions with great heroes, who do everything they can to win. Fight for Balthazar, God of Brightness, and in exciting real time combats, wipe out the enemy forces on the battlefield and be the winner.
Mini Warriors features:
Fascinating hero skills
Recruit 200 different heroes
More than 100 powerful items and equipment
8 kinds of troops
Enemies from 400 stages
Over 300 achievements
Play the game with kids and teens all around the world. Join the lords across the world and crush Nigel's conspiracy. With delicate and vivid cartoon images, enjoy this action-filled entertaining android game. People from all ages, teens, kids or adults, will love Mini Warriors.

You can follow us on
Android Games For+