Music Hero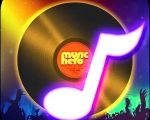 Who doesn't love music ? A rockin' music rhythm game for you to play your favourite songs. Tap the right notes and make a good music song. This free game created for Android devices under Kids category.
Music Hero is a rhythm game based on making music.  In Music Hero, players tap the discs when passing the bar at the bottom to play their favorite songs. They can score more by paying attention to accuracy and timing. Supporting local MP3 music files, the game also enables its players to play with their own music files and preloaded songs.
Music Hero also features three different difficulty levels as simple, standard and expert. So it is now possible to enjoy playing your favorite songs at any difficulty you want. If you love making or listening music and want to have a good time playing your favorite song, just rock it with Music Hero! It is a very exciting and enjoyable game for kids and teens. Relax and experience the joy of music only by touching your phone screen.

You can follow us on
Android Games For+