Office Rumble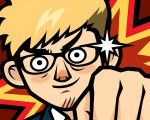 Office Rumble is a stress relieving action game with unique cartoon graphics. Build your team and dive into action which takes place in various places! This free game created for Android devices under Kids category.
Office Rumble is a well-developed action game including 3 on 3 combat style fighting. In the game all of your troublesome co-workers and vile bosses who bother you are waiting for your fist. There are many different characters whose skills on this adult game, attacks and blocks are just too enjoyable. Collect all these characters and build your ultimate team.
Office Rumble enables players to upgrade their characters' levels. By improving your team members' skills, you can continue nurturing and growing your employees, making a stronger fighting force. The game also includes very entertaining characters and hilarious dialogues which create an enjoyable story for all players.The game consists of unique and vivid cartoon like characters and graphics. Also there are many different locations such as a beach, a bar, subway or even Times Square in New York City and more. Just participate in 3 on 3 or 5 on 5 battles with players from all around the world, and let the action begin!
With easy touchscreen controls and intense combats, Office Rumble is a very unique and entertaining android game for action lover kids, teens and adults.

You can follow us on
Android Games For+