Real Racing 3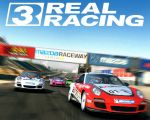 An award winning racing game that completely changed the racing game standards. Best car driving game you can find on android google play market. This free game created for Android devices under Kids category.
Are you interested in cars and racing games? Real Racing 3, with enlarging roster of officially licensed tracks and over one hundred carefully detailed cars from the best manufacturers such as Ferrari, Chevrolet, Lamborghini, Porsche, Bugatti, Audi and Mercedes-Benz, is the perfect android game for you. The game also enables you to race anywhere with anyone, at anytime.
Real Racing 3 allows you to race with real cars, on real tracks. There are 12 real tracks in different worldwide locations. It is possible for players to race with friends or rivals from all around the world in global 8-player, cross-platform, real time racing with drafting.
The game includes more choices than ever. It is now possible to compete in more than two thousand events, featuring Cup races, eliminations, endurance challenges and drag races. Choose any of the various upgrades to maximize your car's performance. Modify your car in the way you want with different paints, vinyls and rims. Real Racing 3 offers players to view the action from different camera angles and features extremely high quality visuals. You have to try it to fully believe it.
For kids and teenagers who love cars and are looking for challenge, Real Racing 3 is the best choice with really high qualities. 

You can follow us on
Android Games For+