SimCity BuildIt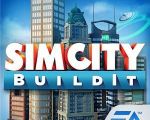 SimCity BuldIt is created by Electronic Arts for people who want to be the mayor and build their own unique city. Download the game and create the perfect place to live in! This free game created for Android devices under Kids category.
SimCity BuildIt was developed by one of the best creators in business, Electronic Arts. In the game, players take on the role of the Mayor and build their gorgeous city. The aim is to extend your city's borders and keep your citizens happy. But remember, the larger your city gets, the more needs your citizens have.
SimCity BuildIt, with numerous structures and 3D quality graphics, is the most realistic city building game on mobile phones and tablets. Players need to place their buildings strategically and keep the taxes flowing in order to allow their city to grow. The game enables players to zoom, pitch and rotate 360 degrees while they run their city.
Creating and trading resources with your friends and other cities will make your glorious city more powerful. Players can also unlock special buildings like Big Ben or unleash some disasters.
In order to keep their citizens happy, players have to find solutions for city life problems like traffic or pollution. Balance services and present entertainment for your citizens. Keep their life standards and their mood high.
SimCity BuildIt offers many fun challenges and entertainment for players. Build your dream city and manage it however you want. SimCity BuildIt is the best city building game for kids, teens and adults.

You can follow us on
Android Games For+