Six-Guns: Gang Showdown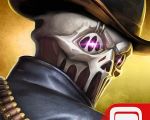 Six-Guns: Gang Showdown presents a unique adventure for players. Join Buck Crosshaw on his journey and take on a great variety of tasks and missions. This free game created for Android devices under Kids category.
Buck Crosshaw, a man who only shoots those who deserve it, is now an outlaw who had to fake his death and escape. Explore the Wild West with Buck and face the new evil force rising from the hills of this mysterious land.
In Six-Guns: Gang Showdown players explore Arizona while encountering lots of mysteries, outlaws, unnatural forces like vampires and more evil beings. There are 40 different missions including racing horses, taking out robbers, fending off waves of enemies and a lot more. The game also features 19 powerful weapons, 8 horses to unlock, a wide selection of clothes, ammo and plenty of other objects to help you on your adventure.
Join this challenging journey and help Buck to survive in this mysterious region of evil forces, bandits, unnatural creatures and stirring ancient powers. Six-Guns: Gang Showdown is an action game with a stunning story and high graphics. The game has been downloaded more than ten million times and has 4.4 stars on Google Play Store. Action lover kids and teens are going to be addicted to this android game!

You can follow us on
Android Games For+