Toddlers Cubed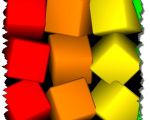 Toddlers Cubed is enjoyable android game created for toddlers. This amazing app offers your little kids amazing times without boredom. Colorful cubes will catch your toddlers attention immediately! This free game created for Android devices under Kids category.
If you are a parent who has hard times while trying to keep occupied your toddlers, this wonderful android app just perfect for you. Toddlers Cubed provides enjoyable times to your toddlers. Besides, while toddlers are having fun with this game, you will be able to spare some time to yourself
Toddlers Cubed is great choice for both parents and kids. This app provides simple interface that helps your toddlers to control it without your assistance. In the android game, there are grey and motionless cubes and toddlers should press them to see visual feast. When your little kids touch the grey cubes, they turn into colorful cubes. Besides they will rotate and play great musics. When your toddlers stop touching cubes, they go back grey and motionless.
Toddlers Cubed offers improvement on your toddlers skills. With this android app, they will be able to recognize some colors. Besides, music will improve their aural skills and creativity. Kids enhance their cognitive and motor skills without boredom. Those cute cubes will help your toddlers to have amazing time with this android game.

You can follow us on
Android Games For+