Trial Xtreme 3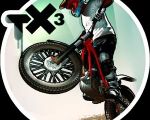 Trial Xtreme 3 is an awesome racing game, now with new innovations and amazing features. Control your bike carefully and don't let anything stand in your way. Can you be the #1 racer? This free game created for Android devices under Kids category.
Trial Xtreme 3 is a breath taking android game for racer kids. In the game players control an amazing bike to enter races and complete tasks. There are 137 original courses to tackle and various obstacles such as hundreds of mines, wrecked cars and water pipes that are standing on your way.
In Trial Xtreme 3, it is possible to customize your bike and rider. In this android game Social media and offline multiplayer options which allow you to challenge friends, make it easier for players to hit the course and win the races. Race against your friends and Trial Xtreme 3 players around the world to prove you are the best racer that the world has ever seen!
The game also includes:
New and advanced physics engine
137 levels across 7 worlds
Many challenging obstacles
Ability to customize your bike and racer
High score tables
Trial Xtreme 3 is a highly exciting android game with good graphics and stunning features. It is a good choice for especially kids and teens who love racing games.

You can follow us on
Android Games For+