Where's My Water 2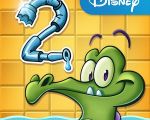 A sequel to one of the most favorite android games of Disney. Help Swampy and friends to cut through dirt with different strategies. This free game created for Android devices under Kids category.
Where's My Water is a physics based puzzler. This time the game includes more locations including the Sewer, the Soap Factory and the Beach. Help Swampy and his friends by cutting through dirt, guiding fresh water, purple water and steam.
The game features more than one hundred levels, new 'Challenge Modes' to replay the levels in explosive new ways. Players must dig fast in order to get more duckies. The faster you dig, the more duckies you'll get! Completing achievements will also help getting special themed duckies. In this sequel, tri-ducking is faster and more fun too.
Where's My Water 2 enables players to use hints if they ever stuck on a level. With funny characters and exciting levels, Where's My Water 2 is exactly for kids and teenagers. If you like this game, try Disney's other versions.

You can follow us on
Android Games For+