2Fuse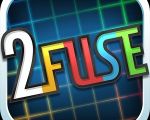 2Fuse is a quick, simple and colorful puzzle game to draw players away from reality for just a few minutes. This free game created for Android devices under Older adults category.
It is easy to play 2Fuse but it is hard to master. The game actually have  just a small number of simple rules to understand. For newly starters, there's a quick tutorial of the game mechanics at the very beginning of the game.
The game includes small square shaped boxes which have numbers 1,2,3 or a star written on each of them. The boxes come in three different colors; green, red or blue. What players have to do is to match up same colored boxes which have the same numbers or star typed on them, simply by tapping. Combining two "1" boxes creates a single "2" typed box. Pairing two "2" boxes creates a single "star" typed box. And ultimately, combining star boxes gives different bonuses depending on the color of the boxes, to help players score higher.
2Fuse also features; simple and straight forward gameplay, cool graphics and a colorful screen. It's a fun and entertaining getaway for adults and older adults who want to relax for a while.

You can follow us on
Android Games For+