3D Bowling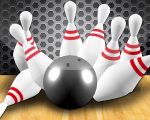 The most realistic android 3D bowling game in google play store. Almost best android bowling game if you like to have fun on playing bowling. This free game created for Android devices under Older adults category.
3D Bowling is the only bowling game that includes 3D physics engine and effects. Experience this extremely realistic bowling game now!
The game requires moving the ball to the right or left to position it for your throw, flicking the ball with your finger to make it bowl, drawing a curve on the screen to throw a hook ball.
3D Bowling also features; 5 stunning bowling scenes, multiple bowling balls in each scene, details stats tracking, high quality 3D graphics.
With its easy playing and impressive features, 3D Bowling is a good choice for bowling lovers. It is highly suitable for adults or older adults who want to spend some time relaxing with bowling. 

You can follow us on
Android Games For+