Blocks Burst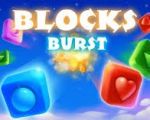 Blocks Burst requires players to break adjacent blocks. A good choice for older adults who want to relieve their stress and have fun. This free game created for Android devices under Older adults category.
Also known as "Bubble Pop Game", Blocks Burst is a classic game for all players. What gamers need to do is selecting two or more contiguous blocks and breaking them.
The game has two modes:
1)      Classic Mode: In this mode, the less blocks left, the higher scores you will gain.
2)      Extend Mode: The more blocks you break, the higher score you will get.
Blocks Burst also includes color blind mode for people with special needs.
Offering an easy and joyful play, Blocks Burst is a suitable game for adults who want to enjoy and relieve their stress.
Screencaps

You can follow us on
Android Games For+