Dots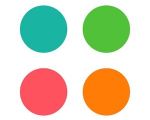 Dots is an exciting and addictive android game based on connecting same colored dots. Easily connect the dots while enjoying yourself with minimalistic design and comforting music. This free game created for Android devices under Older adults category.
Dots is an android game which is challenging but simple at the same time. In the game, players connect same colored dots, one dot to another and connect four dots to make a square or make a line to connect every dot of a single color.
There are two modes in the game: players can play in either beat the old time clock mode or moves based mode. In time clock mode, there's a 60 second time limitation and players need to connect as many dots as they can before the time is up. In moves based mode, they can take their time while planning strategic moves, the important thing is to make as few moves as possible.
In Dots, gamers start playing with 4 lives. Be careful and plan your moves wisely. Enjoy with colorful and minimalistic game design. Also players can relax with game's soothing music. Dots is a good choice for adults and older adults who want to pass some peaceful time.

You can follow us on
Android Games For+